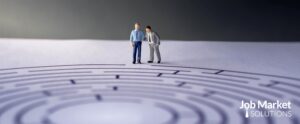 By Betsy Taube, CPCC, CPRW
Do you need a career coach? Here are some scenarios that most certainly warrant some outside help:
1. Lack of clarity or direction. If you've ever taken a job that's even the least bit outside your wheelhouse, it's easy to get swept up in your responsibilities without devoting the time or energy to redirect. A career coach can help you make the time and effort to get back on track.
2. No roadmap! If you're clear about where you want to go but have no idea how to get there, a career coach will ask questions you never considered to help you build a plan. REMEMBER: Career coaches don't need to be experts in your profession, but they're experts at brainstorming to help you find the answers.
3. No jobs that "look" like you. Sifting through job postings that require skills you don't have is frustrating and discouraging. Career coaches are very good at looking beneath the surface of your experience to find talents you never knew were there.
4. You need a digital brand. With most resumes being sent, reviewed, and substantiated by recruiters and hiring managers online, having even a conservative digital presence is essential. It can be as easy as updating your LinkedIn profile, building a portfolio to showcase your projects, or even launching a blog. A career coach can help you consider and plan for the possibilities.
5. Plain and simple: You're afraid. Fear is a debilitating emotion, especially if you've haven't been in the job market in a while. A career coach can help you review your situation more objectively, parse it into options and opportunities, and create a plan to get you moving—which is the first (and often times the worst) step.
6. Your resume isn't cutting it. Not all career coaches are resume writers and not all writers are coaches. Typically, either one can provide referrals for the other, but we've got pros on the Job Market Solutions team who are trained and credentialed as both. Working with someone who doubles as your resume writer flattens the learning curve for positioning your experience in writing, so you can augment and draw greater value from your coaching experience.
Even if none of these scenarios seems to reflect your current situation, a free consultation with one of our coaches might give you some clarity on where you are and a few options for your next move. Book your free phone consult by visiting our Contact page and clicking the "Schedule a Call" button.
—
About Betsy Taube, CPCC, CPRW – Betsy Taube is a resume writer and career coach who has 35 years of experience in corporate communications for B2B and B2C audiences across multiple industries, including public relations, Fortune 500 manufacturing, nonprofit, and life science marketing. www.jobmarketsolutions.com