WILL YOUR RESUME MAKE THE CUT?
Get ready to apply for jobs with more confidence
The sample resumes on this page, written for professionals, directors, and executives across diverse fields, all beat the ATS and led to interview invitations and subsequent job offers. Please note: For display purposes, these resume samples are one page in length, but we frequently write two-page resumes for our clients as well.
Click sample for larger view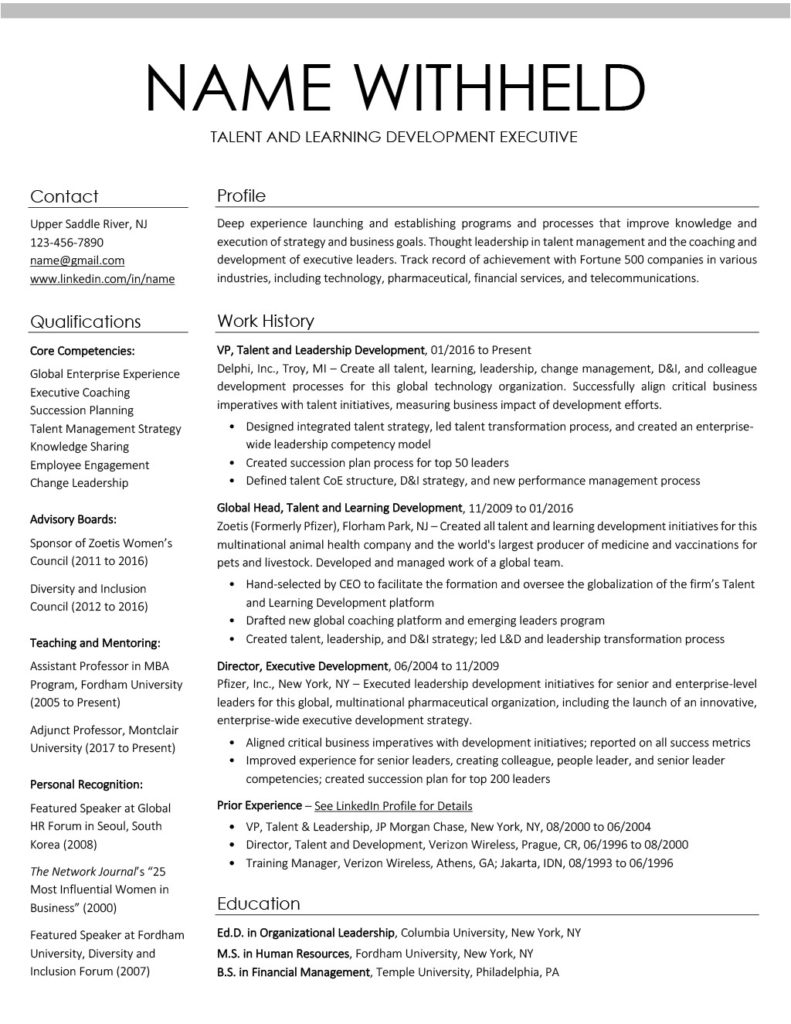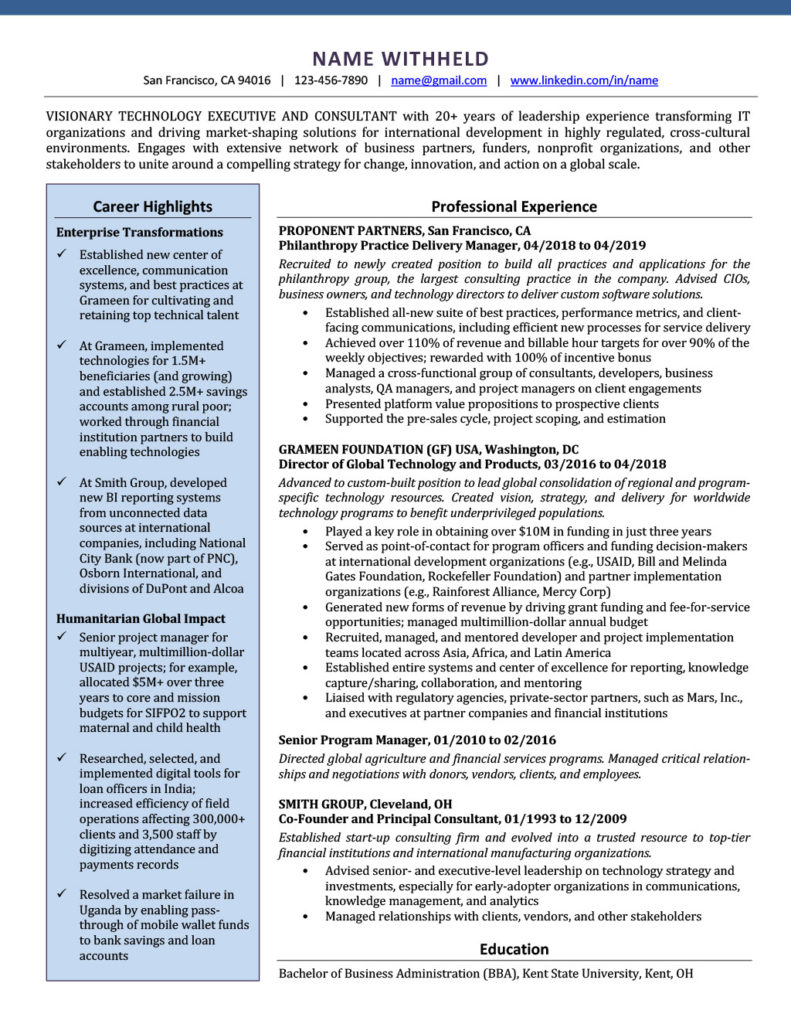 Susan M.
The new resume and LinkedIn you created helped me garner attention from an employer whose jobs I had been monitoring for years. I'm excited to begin working at my new company.
Troy W.

Outstanding experience! Mir and team provided me with an amazing resume update and LinkedIn makeover that met all my needs. They took a great deal of upfront time to understand my career goals and then pulled together a comprehensive plan to accomplish the desired outcome. It was a partnership that I had complete control over. They were extremely patient and managed around my work schedule. The end result was more than I could have ever expected. Five stars! Call Mir to team and get your career path on the right track.
Adam S.
Mir was a pleasure to work with as she went above and beyond to ensure my experience was highlighted in a way that would stand out to potential employers. I now submit my resume with a greater level of confidence, knowing that my skills have been presented in a creative and professional way.
Danny C.
Great work! Thank you for your support through this process. Again, I was impressed by the amount of time I had to put into it for a customized result that I feel is a good characterization of me. I could never have arrived at this output without you powering through the process. Another thing I appreciate about you is that you seem to work very comfortably through the process, never being defensive or insulted by my feedback. I like that you stand your professional ground when its best for me. I like that you educate me with your knowledge of a process you work daily, as opposed to me, who never wants to be in this position! I like the fact that you are the professional, that I never got frustrated trying to close in on ideas, that you would read me a bit, maintain quality, and close in on the ideas with me. Thank you for your service.
Shari K.
If you want to sharpen your professional brand, Mir is the person to do it! With her help, I now know I am putting my best foot forward!
Mary P.
Hi Mir, just wanted to reach out and thank you (and team) for your help with my resume. It took me a bit longer than I anticipated to enter the job market but once I did, I quickly landed my dream job (complete with a sizable raise)!! I received quite a bit of positive feedback on my resume as well. Doubtless it helped open doors! Thanks a ton!
Use our calendar to select a day and time that work for you and our founder, Mir Garvy, will call you then.
It couldn't be easier, so schedule your phone appointment now.