WILL YOUR RESUME MAKE THE CUT?
Get ready to apply for jobs with more confidence
The sample resumes on this page, written for professionals, directors, and executives across diverse fields, all beat the ATS and led to interview invitations and subsequent job offers. Please note: For display purposes, these resume samples are one page in length, but we frequently write two-page resumes for our clients as well.
Click sample for larger view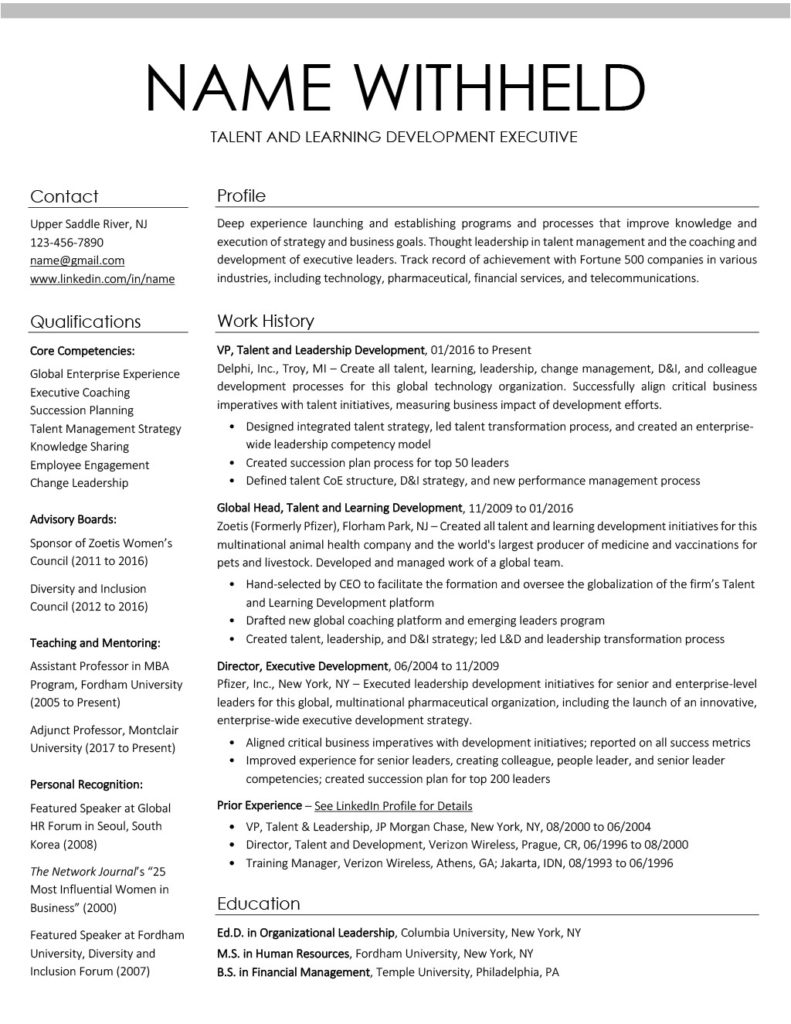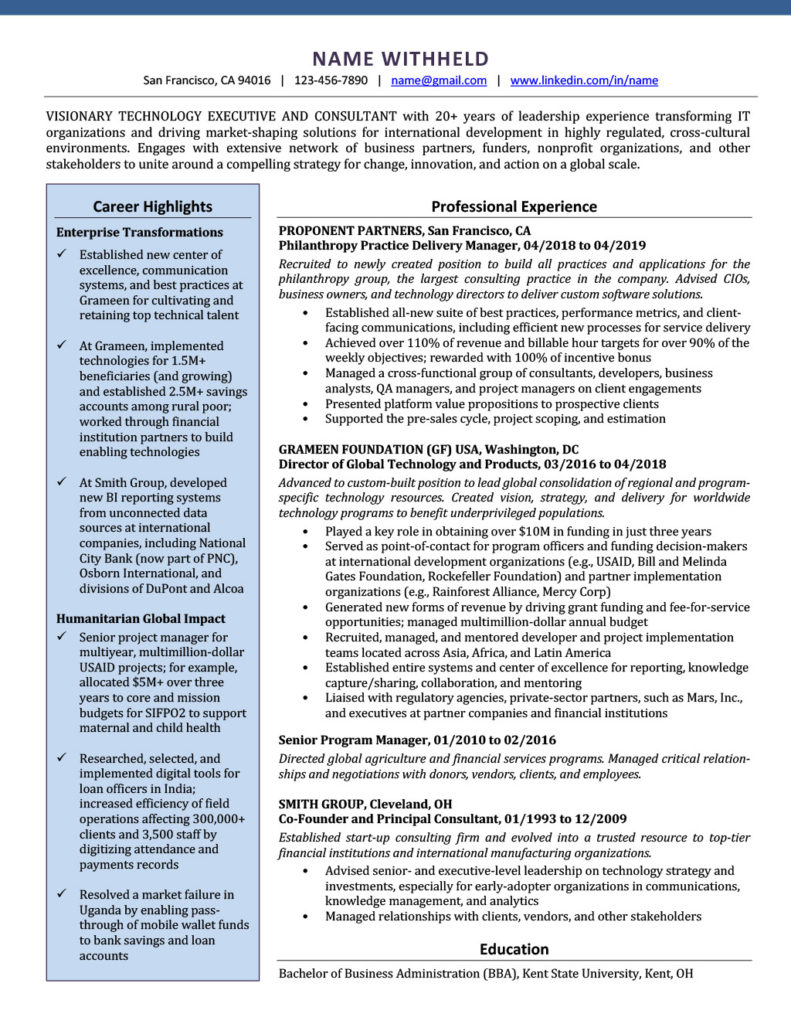 Rob B.
Mir is a great listener and she cares about her clients and their expectations. She doesn't take a resume and just 'clean it up.' She gets to know the client through open-ended questioning, finds out what matters most, and gets to know her clients' goals. Only after you are completely satisfied does she unveil a body of work that is utterly stunning!
Adam B.
Thank you again for everything. I have already used my new resume to apply for a position and the hiring manager made it very clear that my resume was the sole reason they chose to interview me. It is already doing great things for me! Thank you!!!
Glenn D.
I'll keep this short and simple ... Mir and her crew are terrific! They provide prompt, very professional service. Mir took my old drab resume and reworked it to catch the attention of today's employers. Thank you, Mir!
Mitchell T.
Mir worked miracles. My tired five-page monstrosity of a resume was reduced to a two-page, concise, direct, and strategic document that showcases my skills and desires. While I would love to boast that I was hired the same day I posted my new resume (thanks to our economy, I cannot), I know that I can apply to opportunities with confidence and know that my resume is now pushing me ahead of others instead of being held back. This was easily one of the best investments I've ever made and, if you're someone re-entering the job market (leaving college, unemployed, new to the country, etc.), Mir's team will work magic with your resume! Job very well done. I will never use anyone but Mir to handle my resume or cover letter needs!
Janice H.
I'm happy with my complete package: resume, LinkedIn makeover, and cover letter. I appreciate all your hard work. Your team did a fantastic job on everything. Many thanks!
Keith D.

Mir's team was an incredible resource for me as I transitioned my marketing career from Atlanta to the Triangle region in North Carolina. I choose to work with Mir after researching numerous options. Her website content, references, and process sold me on her services and they absolutely exceeded my expectations. Working with Mir Garvy and Kristi Strange was a pleasure and they were consummate professionals. Thanks so much for pushing me to have the best resume and renewed sense of self in this job search.
Use our calendar to select a day and time that work for you and our founder, Mir Garvy, will call you then.
It couldn't be easier, so schedule your phone appointment now.