Advance Your Career with a Winning Professional Resume
Our team of certified professional resume writers produces high-impact career documents for senior professionals.
Advance Your Career with a Winning Professional Resume
Our team of certified professional resume writers produces high-impact career documents for senior professionals.
We Are Career Storytellers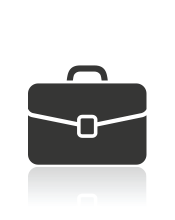 What is a resume if not an advertisement of the results you're capable of achieving?
Is your online brand, especially your LinkedIn profile, polished and professional?
Need a professional game plan? Our career coach professionals can help. 
We write resumes that get results
The HR and talent acquisition fields are highly data- and analytics-driven. Don't go it alone; make sure your resume can keep up in today's job market.
See samples of job-winning resumes
.
Differentiate yourself on LinkedIn
Because 94% of hiring managers will look you up on LinkedIn, a LinkedIn makeover comes bundled with each of our packages.
Learn about the LinkedIn makeover
.
[SOURCE: WWW.JOBVITE.COM]
OUR CLIENTS HAVE RECEIVED INTERVIEWS FROM
Beth Mullaney
Director of Business Development and Partner, Rankin McKenzie
I have referred many colleagues to Mir and her team - they provide timely, efficient, amazing results. Anyone who wants to put their best foot forward and present themselves in the best light, should reach out to Mir and let her tackle their resume, LinkedIn profile and more.
Andrew Tsao
Founder, The Studio Seattle

I was a little concerned about hiring a resume professional knowing we would only interact online, but Mir Garvy's service quickly made me a fan of her company. Thoughtful, professional, timely, and imaginative work went into my new resume. As I am undergoing a career change, there needed to be a strong narrative written in my story that spoke of evolution in a positive light. Mir asked the right questions, was thoughtful in her ideas, and her associates did the day-to-day work with skill.

Scott Coffey
Regional Logistics Lead, Facebook

Transitioning from the military is difficult especially translating all your experiences into civilian verbiage. Mir took that burden and created a flawless resume, cover letter, and LinkedIn profile that put my mind at ease. More importantly, my resume attracted the attention of a MAJOR social media company and during my second interview a senior executive remarked "I don't know how you managed to squeeze so much experience on one page!" Mir took 20 years of experience and packaged it in such a manner that those kinds of comments are common.
She was extremely helpful through every step, responsive, reassuring, and professional. Thank you Mir!
Keith Duprey
Senior Strategic Adviser, Exceptional Experience, BCBSNC

Mir's team was an incredible resource for me as I transitioned my marketing career from Atlanta to the Triangle region in North Carolina. I choose to work with Mir after researching numerous options. Her website content, references, and process sold me on her services and they absolutely exceeded my expectations. Working with Mir Garvy and Kristi Strange was a pleasure and they were consummate professionals. Thanks so much for pushing me to have the best resume and renewed sense of self in this job search.
Rob Barrow
Vice President, Banking Center Manager II, Bank of America
Mir is a great listener and she cares about her client and their expectations. She doesn't take a resume and just "clean it up\". She gets to know the client through open ended questioning, finds out what matters most , and gets to know her clients goals. Only after you are completely satisfied does she unveil a body of work that is utterly stunning! Many of my friends and colleagues who reviewed my resume after Mir completed the work were impressed and commented how well it stood out.
Michael Israel
Residential Real Estate Broker/REALTOR®, Keller Williams Realty
Mir's team did a full refresh of my resume and cover letter, which hadn't been professionally reviewed in about 11 years. While it's been just about a month since they completed their work, I've already seen much more positive results than with my previous versions. I've received two call-backs from recruiters looking to schedule interviews. My batting average wasn't nearly as strong before Mir and her team worked their magic. I found her and her team, as well as their process, to be highly professional and organized. I recommend them enthusiastically.
Claire Cormier
Executive Recruiter, Founder and President, Full Scale Solutions, Inc.
I have always considered myself a stickler for a well-written resume and I am shocked at how many executive resumes I have seen that were downright awful. In today's economy, with so much competition in the market, it is critical to have a clear, concise, and well-crafted resume to get noticed by hiring companies. Mir has been my trusted 'go to' for helping my executive candidates present themselves much better by superbly crafting their resumes and LinkedIn profiles. If you engage her, you will surely see a return on your investment.
Paul DeCumbe
Chief Financial Officer, Technical Systems, Inc. (TSI)
I found Mir through a Google search and then reviewed her on LinkedIn about two months ago. I liked what I read and I hired her to revamp my ineffective resume to help me find a job. It worked to perfection. I got a lot of interviews, calls, and comments about the great resume that she produced. Thanks to Mir's great technical writing and graphical presentation, I got my dream job and I start in three weeks!
Thanks Mir!
Troy Weeks
Global Account Manager, NetApp

Outstanding experience! Mir and team provided me with an amazing resume update and LinkedIn makeover that met all my needs. They took a great deal of upfront time to understand my career goals and then pulled together a comprehensive plan to accomplish the desired outcome. It was a partnership that I had complete control over. They were extremely patient and managed around my work schedule. The end result was more than I could have ever expected. Five stars! Call Mir to team and get your career path on the right track.
Use our calendar to select a day and time that work for you and our founder, Mir Garvy, will call you then.
It couldn't be easier, so schedule your phone appointment now.
You can also send us a message