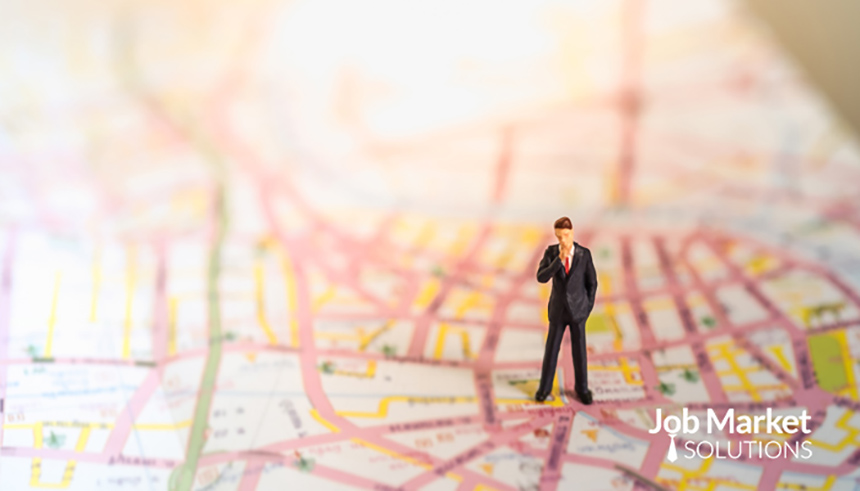 My client Karen is a following spouse with a career of her own. Her husband Bruce has a great job but his company moves him every three years. So, Karen needs to update her resume before every relocation.
I learned from Karen and from other clients who were relocating that the remote job search isn't always easy. HR people usually want to meet you in real life. Your schedule for meetings may not be as flexible as those of the local applicants. You may not have many contacts or a strong network in the area. And you may not know anything about what it's like to live in this new place.
But the long-distance job hunt doesn't have to be scary or unproductive. Here's the advice I give people planning to look for work prior to moving.
Research the Area
If, unlike Karen, you are choosing where to move, find out what different cities can offer you. Are there good jobs there in your field? What's the pay scale? Can you afford to live there? Will you like the climate and the culture? Do you have connections there?
Begin reading the local newspaper of a city that attracts you. It will help you decide if you want to move there. It will also bring you up to speed so you're comfortable in conversations about things like local politics, sports teams, and neighborhoods.
Research Companies
Whether you are changing careers or advancing in your chosen field, do the homework to learn which employers might hire you. Research these companies on Glassdoor, and read about typical jobs on national job sites and the area's local sites.
If your move is a forced one, you may have to be more creative in your job search. When you can't find employers in your field, can you redirect your career or else work remotely?
Make Friends
When you're sure you want to or need to relocate, begin extending your network. Contact a local recruiter in your new hometown. Make connections on LinkedIn with people working in your industry there and explain your plans. Employ all the usual avenues for networking – professional organizations, special interest clubs, fraternal and religious groups, and alumnae associations.
If you already have friends, family, or business colleagues in your new locale, keep them up-to-date on your plans and don't be shy about asking for advice or introductions. Most people are happy to help. You can even do some informational interviews remotely.
If you are moving to be with a significant other, tap into the network of that person, especially if you share an occupation. Most people get jobs because of who they know.
Build a Resume
Here's where I can help. An updated resume is a must for any job change. This is your chance to advance rather than make a lateral move. We can structure the resume to show that you are a forward-thinking individual who's brave and adventuresome.
Don't Pretend
Every job application process depends on honesty, and the long distance job search is no exception. A good place to address the relocation issue up front is in your cover letter. Let the company know that you are planning this move and are looking forward to it. It's best to have a prepared answer to the interview question, "Why are you moving?"
You don't want to raise concerns that you're leaving problems like a bad job or soured relationships behind, or that your relocation is impulsive or dependent on getting the job you're applying for. Employers are understandably skittish about hiring someone who is problematic or brings emotional baggage.
I don't recommend using a post office box, virtual office address, or the mailing address of a friend or relative to make it look like you have already relocated. You might be expected to respond to interview requests on short notice, and if you are hired, it might be difficult to explain why you are apartment- or house-hunting once you start work.
Get Clear on Money
When a large company hires an executive, the relocation package can be sweet. Besides paying for interview trips, it may absorb moving expenses and even temporary housing costs. Smaller companies and lower-level jobs don't deliver the same perks.
If you want to ask about being reimbursed for travel costs, be sure that you don't come across as needy. If a company plans to pay, it will usually let you know up front. When a company or a headhunter initiates the job search by approaching you, your expenses will probably be covered.
Stay Flexible
Maybe your research or interviews start telling you that either the locale or the timing isn't right for your relocation. In that case, be prepared to change course. Either look at other cities (assuming you have that option), postpone your move, or look for a new job where you live.
Whichever direction you take, it's important to never burn bridges. Badmouthing, negativity, and complaining have no value when you are serious about advancing your career.
There are plenty of good reasons to relocate. Maybe you want a change of scenery, a new challenge, or more opportunities in your chosen field. Perhaps, like Karen, you are moving for family reasons. Moving is stressful, so having a job before you pull up stakes is one way to ease the transition. With the right preparation, you can conduct a successful job search and have a new job before moving day.